Mehr zu der Aktion gibt es bei
The emotional Life of Books
! Ich denke jeder von uns hat schon mal ein Buch nur wegen des Covers gekauft und dann einen extra guten Platz im Bücherregal gesucht. Es gibt immer wieder neue Schönheiten unter den Buchcovern und meine Liebsten werde ich euch wöchentlich vorstellen.
Burning Glass von Kathryn Purdie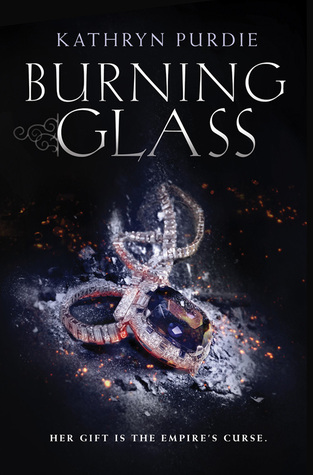 Inhalt
Sonya was born with the rare gift to feel what those around her feel—both physically and emotionally—a gift she's kept hidden from the empire for seventeen long years. After a reckless mistake wipes out all the other girls with similar abilities, Sonya is hauled off to the palace and forced to serve the emperor as his sovereign Auraseer. Tasked with sensing the intentions of would-be assassins, Sonya is under constant pressure to protect the emperor. One mistake, one small failure, will cost her own life and the lives of the few people left in the world who still trust her. But Sonya's power is untamed and reckless, her feelings easily usurped, and she sometimes can't decipher when other people's impulses end and her own begin. In a palace full of warring emotions and looming darkness, Sonya fears that the biggest danger to the empire may be herself.
As she struggles to wrangle her abilities, Sonya seeks refuge in her tenuous alliances with the volatile Emperor Valko and his idealistic younger brother, Anton, the crown prince. But when threats of revolution pit the two brothers against each other, Sonya must choose which brother to trust—and which to betray. (Quelle: Goodreads)
Meine Meinung
Das Cover ist diesmal sehr dunkel, aber ich finde das hat auch mal was. Dieser Fokus auf das zerbrechende Schmuckstück ist einfach fesselnd. Die Schrift ist etwas unspektakulär, aber sie passt doch recht gut zu den restlichen Details. Nicht nur das Cover sieht wunderschön aus, sondern auch der Inhalt scheint toll zu sein.